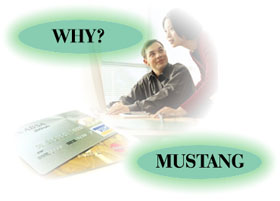 Welcome to
MUSTANG MERCHANT SYSTEMS
.
Now that you crossed the threshold of our web site, let's review why we're "
JUST BETTERSM
" at setting up businesses to accept credit cards.
This is
your
Web site for Set Up, Information and General Administration of
your
Merchant Services.
MUSTANG -
EDUCATES
:
Without question, today's merchant, more than ever, needs to
Know
and
Understand
the reasons behind the rates and fees of credit card processing. The MUSTANG ADVISOR, (exclusive to Mustang Merchant Systems), does just that.
MUSTANG -
INFORMS
:
Keeping up with the changes and dynamics of your business is a full time job. So Mustang Merchant Systems provides you with the information you need to keep in touch with the pulse of credit card processing.
MUSTANG -
ADVISES
:
At your request, we will review and analyze your processing statement to insure your business is in compliance with the rules of Visa/MasterCard. Of course the complimentary subscription to THE MUSTANG ADVISOR, for active Mustang merchants, is your on going source for cost reducing ideas and updates on fraud prevention.
MUSTANG -
CUSTOMIZES RATES
:
Your business is unique and so is our rate structure. True we could quote you "off the shelf" rates but that may not be in your best interest. Your business is
special
and our pricing is customized just for you.
THE NEXT STEP
: is yours. Simply reference the
Getting Started
tab of this web site to request a quotation and begin the steps to
JUST BETTERSM
processing.