We know the business community is full of credit card processors looking for your business. So what makes Mustang Merchant Systems different? What sets us apart and makes us
JUST BETTER

SM

?
Simply stated, we have over twenty years of
FIRST HAND EXPERIENCE
in the retail, restaurant, mail/phone order, internet, wholesale and business to business industries. We have been on
your
side of the desk a very long time. Your needs, wants and concerns are understood.
Our
CUSTOMIZED
pricing program is specific for your business.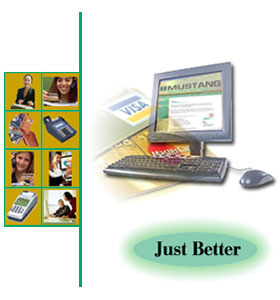 With the strength, power and stability of the world's largest credit card processor, Mustang Merchant Systems processes Visa, MasterCard, American Express, Discover, Diners and JCB as well as debit, purchasing cards, check cards, pin debit and gift cards. Check guarantee completes our non-cash processing services.
We process for all industries, regardless of size or technology, retail, restaurant, medical services, distribution, fulfillment, all levels of government, manufacturing, lodging, B2B, mail order, phone order, petroleum, catalog, internet and supermarket.
Specifically we target lowering your costs through
competitive rates
, systems and procedure analysis, employee training and Visa/MasterCard compliance.
THE MUSTANG ADVISOR, our fraud alert and industry update service for active merchants, keeps you aware of processing trends but most important, it is another step in what makes us
JUST BETTER
SM
and sets Mustang Merchant Systems apart from all others.
Mustang Merchant Systems looks to partner with each merchant to keep
our
costs low to keep
your
costs low.
So whether you are new to accepting credit cards, or have the experience of time, you are invited to take the next profitable step by joining Mustang Merchant Systems. Please complete your business profile found at the
GETTING STARTED
tab of this Web site. Complete this information and fax it to 412-833-7470. If you currently accept credit cards, please enclose your two most recent Visa/MasterCard statements. Additionally, so we may be as accurate as possible, please indicate if these statements represent typical activity.
NOW IS THE TIME TO JOIN THE FAMILY OF "JUST BETTER

SM

" PROCESSING AT
MUSTANG MERCHANT SYSTEMS!!!!!!