Customized Rates... Just for you
Rates come in all shapes, sizes and varieties. Some processors take liberty in disguising the true rate structure by offering free this and free that. But it's a fact of business, very little is free.
Realistically, our purpose of being in business is to assist you in being further ahead at the end of the day. That's where we excel. Our experience has proven there is only one way to be, straight forward and fair and that's just how we are. No mysteries in our rates.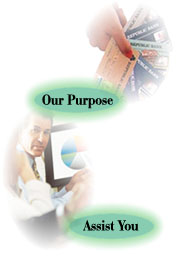 Some of the guidelines influencing your rates are...
The type of business
Size of business
How cards are processed
Merchant operational policy
Visa/MasterCard sales volume
Average sale on credit cards
Special categories as defined by
Visa/MasterCard
So when you reference the "Getting Started" tab of this Web site, and tell us about yourself, we'll customize the rates just for you.